Testimonials
"When it was time to get a pool we went with Fountain Pools. I would recommend them highly. They are efficient, worked in a timely fashion, and gave us what we wanted. I would recommend Fountain Pools to anybody. The best design for the money."
Victor and Suzanne Scargowski
"They (Fountain Pools) impress you with all the different concepts they can do. We really love our pool. We made a good decision by having Fountain Pools build it for us."
Diana Jenson
"Everybody was satisfied. They (Fountain Pools) are well known. We had a great experience and I highly recommend Fountain Pools. They took care of business in a professional manner. The price was good and we liked the service."
Camilo and Susan Jencal
"We love our pool. When my friends and family come over their reaction is "Wow"! Fountain Pools is a mainstay. I would definitely recommend them. Fountain Pools has a great computer program that lets you see your pool. It is state of the art. It made it easy."
Mike Brophy
"I love our swimming pool. It definitely improved the value of our house. It was done quickly. We enjoy it (our pool) winter and summer. Fountain Pools was highly recommended to us. I would definitely recommend them."
Pat and John Haley
"Fountain Pools had the best options. They were reliable, top nock work, fair price and good quality. It (our pool) adds to our living space. They offered us a lot of choices and options. The pool has been an amazing feature added to our house. Fountain Pools gave us the most direct information and the best quality options."
Lisa Kitchener
"I love it; it's great! This is my third pool with Fountain Pools. They do a great job. He got it done in a very timely manner. He was on top of everything."
Kim Huessner
"Quality is so important. Fountain Pools does an excellent job. They gave me exactly what I wanted. Quality, quality, quality. When they build your pool, it is like they are building their own pool. Customers love Fountain Pools; they do quality work. There is no doubt in my mind that we would use Fountain Pools."
Donna Simmons
"I chose Fountain Pools because I wanted my home to match my pool, and I knew Fountain would work with my builder. When it was done, I threw a party, and people would pull up and say "Holy cow, this is nice!"
I didn't price shop; I just wanted quality, because the quality will be there for a long time. You need someone who knows what they are doing; I chose Fountain Pools."
Pat Orr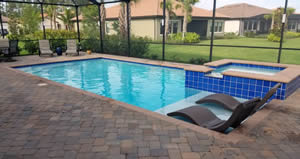 Our experience was great, it's very rare that all phases of the construction go as planned or as scheduled, and there were a few issues along the way but nothing that could not be resolved with a phone call to Gwen. Your recommendation on using Parsons Landscaping was fantastic. Steve took care of everything from the beginning of construction to final plantings including submitting all required forms to our HOA.
I told them that if a potential customer wanted to see the finished product they are welcome to bring them by!
Matthew Klauber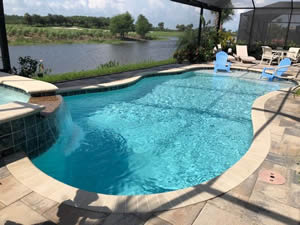 Fountain Pools did a great job from design through construction, pool startup and on going customer support. We have recommended Fountain Pools to others and they must be very pleased. Fountain Pools keep up the great work!
Nice teamwork + follow through.
Pedro & Lourdes Garrdio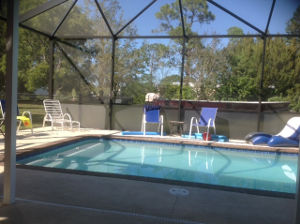 Thank you Fountain Pools. You have transitioned our winter retreat into a personal resort. We have enjoyed the pool a minimum of 3 times a day Morning , noon and night.
Fountain Pools integrity as a business is second to none , and they addressed all of our ( few ) issues to be sure we were totally satisfied. All the rest of the staff , from the office , to the sales personal are more than interested in making your experience a pleasant one. We recommend , and recommended Fountain to our friends and they too we're very pleased.
Keep up the good work!
Don and Terri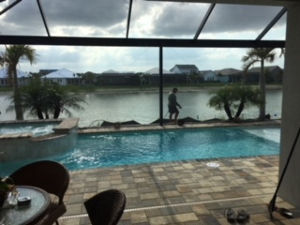 We love our pool. Fountain pools live up to their promises from Bob the sales man , the office staff , Brain and Joel always taking your calls and getting back with an answer
Thanks for a great job!
Dave and Cindi McKnight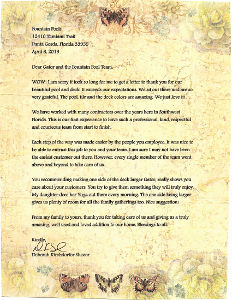 WOW! I am sorry it took so long for me to get a letter to thank you for our beautiful pool and deck. It exceeds our expectations. We sit out there and are so very grateful. The pool, tile and the deck colors are amazing. We just love it!
We have worked with many contractors over the years here in Southwest Florida. This is our first experience to have such a professional, kind, respectful and courteous team from start to finish.
Each step of the way was made easier by the people you employee. It was nice to be able entrust this job to you and your team. I am sure I may not have been the easiest customer out there. However, every single member of the team went above and beyond to take care of us.
Fountain Pools recommended making one side of the deck larger which really shows you care about your customer. You try to give them something they will truly enjoy. My daughter does her Yoga out there every morning. The one side being larger gives us plenty of room for all the family gatherings too. Nice suggestion!
From my family to yours, thank you for taking care of us and giving us a truly amazing, well used and loved addition to our home.
Blessings to all.
Deborah Kirchdorfer Slusser
"Sorry for taking so long to communicate with you regarding your replacement of the bottom cage rails on our pool cage. We realize you did not have to replace them, and really appreciate that you did it for us."
"A friend of ours. Phil MeCully, just bought a home in Legends, and may be putting in a pool. we gave you a very good recommendation and if he goes ahead with it, which I am sure he will, he will no doubt be contacting you."
"Thank you again for the great service."
Mike Durham
"You might wish to know that I think Fountain Pools did a fantastic job. It is a little of a leap of faith when one commits to such a significant expenditure at arms length - knowing that, from Canada, we wouldn't be able to personally oversee the complete project. As it turned out, the pool build was executed flawlessly."
"My family really enjoyed the pool this past two weeks - thanks again for a job very well done!"
"Also, I'd like to mention that everyone I met from Fountain pools (Bob and Jerry) during the past several months were professional, knowledgeable and courteous. All a real credit to your company. (Not to mention that pool troweling crew - wow!)"
Terry Dixon
My wife and I want to take this opportunity to voice our appreciation for the exceptional service provided by Fountain Pools, to correct a problem which was no fault of theirs. The correction took a lot of patience and care to remove the defective grout, so as not to damage the coping.
The crew, headed by Lee, are to be commended for their professionalism and attention to putting everything back in order after the work was done.
We sincerely hope that Fountain Pools will be reimbursed for the corrective work involved. If you need our assistance in confronting the supplier, we will be happy to lend our support.
Again, many thanks.
Frank and Mary Berczynski
The spa looks amazing! The cage is absolutely awesome! The deck is fantastic! Your team of guys are very professional while they are working too.
I've been looking at your drawing (I taped it to the credenza so I could see it everyday) and I'm impressed that the actual looks as good as the drawing.
You guys were great to work with or shall I say watch work. I'm really very pleased!!!
Thanks for everything!!!
Carol Thompson
I had my pool remodeled by your company last week and I have to compliment you and your staff for a job well done. The pool looks great and I would recommend your company to anyone.
Thank you.
Don Zehnder, Ft. Myers
Thank you all so much for creating our paradise in Florida. We are absolutely loving the pool. You were able to create exactly what we expected , envisioned and hoped for. And the fact that you nailed our deadline date, allowing us to enjoy our pool prior to heading back to the cold north , was absolutely fantastic.
All of your staff at Fountain were courteous, friendly and knowledgable. Including your sub contractors. It was obvious your subs. Respect Fountain pools and all spoke very highly of the organization. We entered this endeavour sceptical about what company to choose.
We interviewed a number of optional builders and now feel we made the best decision in choosing Fountain pools. Although there are a few minor punch out items to be addressed yet, we feel very confident heading north , knowing you will honor your commitment to look after things.
We rate Fountain Pools and Water features with the highest regard and have already given your name out to several friends in the Punta Gorda area that are considering adding a beautiful oasis to there homes.
Once again , Many thanks for a job well done.
Don and Terri Roberts