About Fountain Pools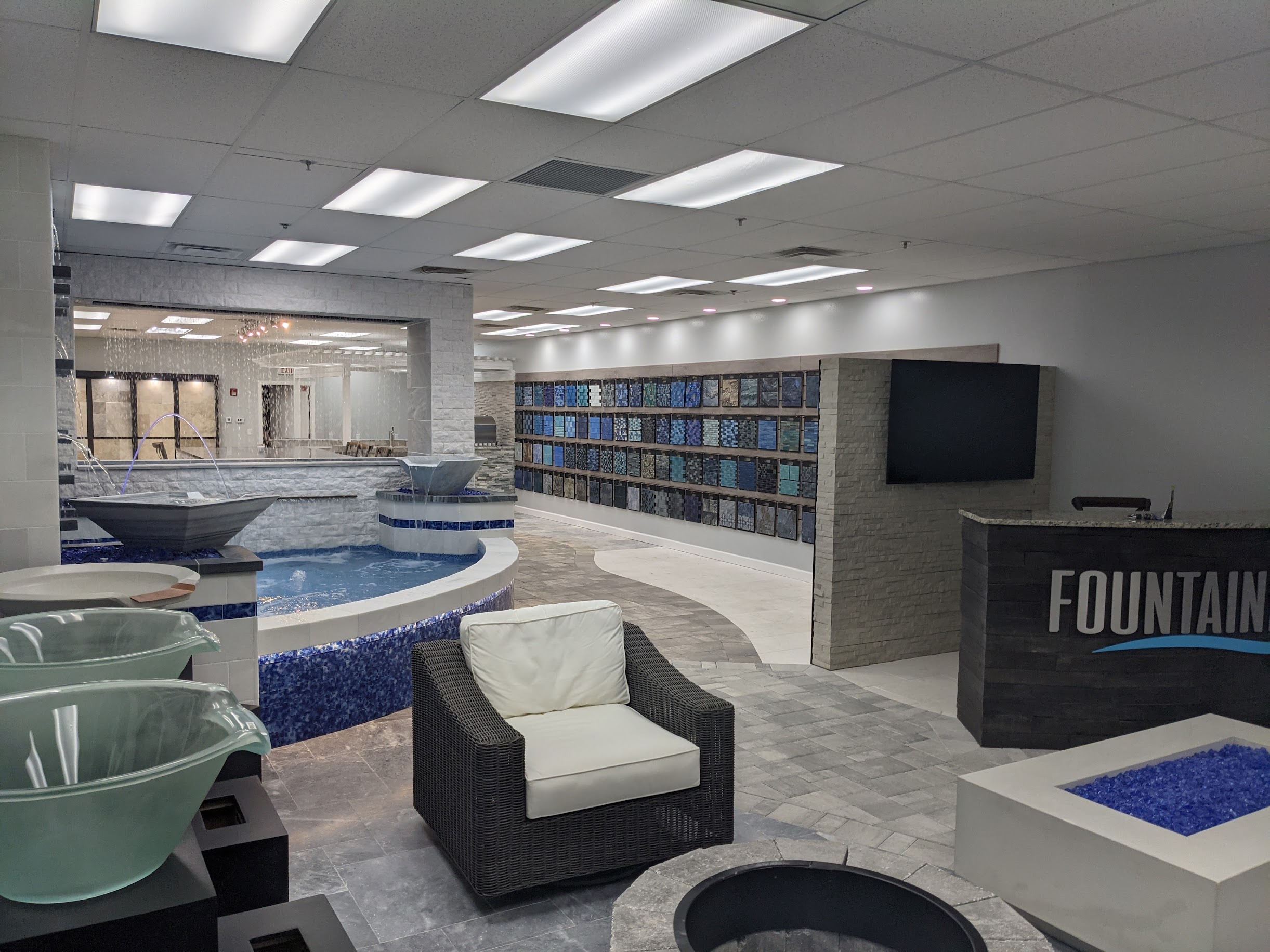 Fountain Pools is an Award Winning builder of residential and commercial pools, in ground spas, custom fountains, outdoor kitchens, grills, tabletop fire-pits and much more. Ranked as one of the Top 10 Pool Construction Builders in the State of Florida, we offer the complete outdoor living experience to transform your backyard into a custom resort of your design. >
Fountain pools is a License and Insured Pool Builder for the greater Punta Gorda/southwestern Florida area.
Financial Strength When You Need Us
Fountain Pools is a rated company with strong financial reserves. We hold a $5 million bond rating to ensure your pool is covered for any unforseen issues.
Come Visit Our Showroom
Our main office is located on Tamiami Trail (Highway 41 in Punta Gorda). With a full size swimming pool, waterfalls, water features, and over a thousand tiles, pavers and interior finishes on display, the Fountain Pools facility is like no other.
10 Reasons You're Better Of With Fountain Pools
Lifetime Guarantee – Every pool comes with a Lifetime Structural Warranty on the shell. Guaranteed not to leak for as long as you own the pool.
Extensive Experience – We've built well over 10,000 commercial and residential swimming pools, spas, fountains, and water features.
Extensive Referral Record – More than three-fourths of our business is repeat business and/or from referrals. Sure-fire proof that our customers are delighted with our work.
Extensive Showroom – We have a brand-new state-of-the-art facility with a full-size display pool and more than 500 tiles, pavers, water features, and other options on display. You can see, touch, and feel the materials before you make any decisions.
Highly Recommended by Florida Home Builders – Home builders have very strict needs in terms of quality, craftsmanship, timeliness, and speed of delivery. We're proud to be a preferred pool builder for many of the best-known home builders in Southwest FL.
Low-Maintenance, Energy-Efficient Construction - From oversized plumbing and filters to energy-efficient pumps, lights and heaters, a Fountain pool costs less to own and takes less time to maintain.
Member of FSPA and APSP – The Florida Swimming Pool Association (FSPA) and the Association of Pool and Spa Professionals (APSP) provide ongoing training and education for pool builders. They also insist on ethical business practices from their members. As pool professionals, we believe all pool builders should be active in these organizations.
$5,000,000 Bond Rating – Fountain Pools is a solid company with strong reserves. We're one of only a handful of Florida pool builders with a $5 million bond rating.
No-pressure Sales Philosophy – We know that buying a swimming pool is a big decision for any family, and you probably don't want to be rushed. We're okay with that. We'll help you whenever we can, but we'll never try to pressure you into a sale.
Upgrade to Pavers at No Extra Cost – Thanks to our high volume of paver installations, we've negotiated special discounts from most of the major paver manufacturers. In many cases, we can upgrade your pool deck to pavers at no extra cost.
---
Associations and Partnerships
APSP – "The Association of Pool & Spa Professionals"
All members of The Association of Pool & Spa Professionals agree to be dedicated to and to comply with the following ethical principles and policies:
FSPA (The Florida Swimming Pool Association)
The Florida Swimming Pool Association serves as the coordinating organization for swimming pool builders and other pool industry professionals who have committed to abide by the FSPA membership code of ethics.
CPO® - Certified Pool Operator®
The Certified Pool/Spa Operator® certification program has delivered more training than any other program in the pool and spa industry since 1972, resulting in more than 200,000 successful CPO® certifications in 44 countries.
ULTIMATE SWIMMING POOLS
Pool Corp, the world's largest wholesale distributor of swimming pool supplies, equipment and related leisure products, has identified a select number of pool builders from around the United States to join the ranks of an "Ultimate Swimming Pool" builder. A pool builder must meet specific requirements in the areas of quality, craftsmanship, business stability and customer satisfaction before they may use the Ultimate Swimming Pools trademark. We are one of the few selected "Ultimate Swimming Pools" builders in this area.
Jandy Pro-Edge Builder
The Jandy "Pro-Edge" designation is reserved for a select few Jandy dealers who meet strict requirements for capability, reputation and customer satisfaction. Most Jandy equipment (pumps, filters, heaters, etc.) that is installed by an official Jandy Pro-Edge builder (such as Fountain Pool & Water Features) receives a three year warranty instead of the normal one-year warranty.
Jandy® pool and spa products are designed to let you spend time enjoying your pool and spa, rather than maintaining it. From their award-winning control systems and pool and spa heaters to waterfalls, automatic cleaners, and more, Jandy® products offer the convenience, performance and advanced technology you demand.
---